Singapore has been described as a playground for the rich, and it's true that the small city-state does have a certain sheen of wealth. But Singapore offers more than just high-end shopping malls, luxury hotels, and fine dining (though it's worth indulging in those a bit if you can). There is also a vibrant history and diverse ethnic quarters to discover, along with the many family-friendly attractions and lovely public spaces that make visiting this slightly futuristic city worthwhile.
Singapore has an excellent public transportation system that makes getting around convenient and easy. Once you've gotten a sense of the metro map, you'll have no problem zipping from one part of town to the next. English is spoken everywhere and signs are in English as well. In fact, Singapore is one of the easiest and most comfortable countries to navigate in Southeast Asia. And as long as you're not comparing prices to nearby Thailand or Vietnam, you're in for a lovely stay.
1. Marina Bay Sands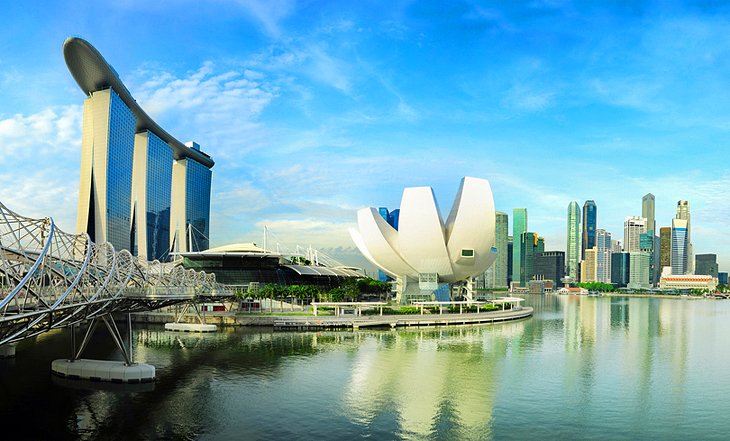 The opulent Marina Bay Sands resort complex includes a hotel, high-end luxury brands, a mall with a canal running through it, the ArtScience Museum, and the Marina Bay Sands Skypark – a vantage point for taking in the entire city. The Skypark's viewing deck and infinity pool are found in the ship (yes, ship) that tops the hotel. Only hotel guests are allowed to use the infinity pool but anyone can visit the observation deck. From the skypark, you can see the innovative double helix bridge, the port, the Gardens by the Bay, and the impressive skyline. While up there on top of the city, guests can grab a snack or a coffee at the rooftop restaurant or pick up some keepsakes from the souvenir stand. You can purchase a photo of yourself green-screened in front of the massive hotel as it's all lit up at night, but the cost is steep: 50 Singapore dollars. Better to ask a fellow tourist to snap a photo of you. The luxury and elegance of the Marina Bay Sands exemplify Singapore's taste, and help designate a major international city in Southeast Asia.
Address: 10 Bayfront Avenue, Singapore
Official site: http://www.marinabaysands.com/
2. Singapore Flyer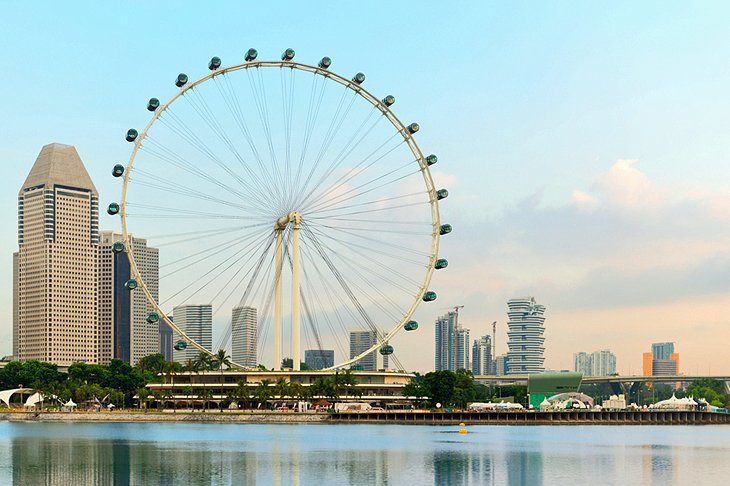 If the observation deck at the Marina Bay Sands doesn't quite do it for you, try taking in high tea while looking out over the city from the Singapore Flyer, the world's largest giant observation wheel. Choose from several different packages that allow you to be served and pampered while enjoying a view that encompasses not only the Singapore skyline, but reaches to the Spice Islands of Indonesia and Malaysia's Straits of Johor. There are several different ticket packages to choose from, and each includes access to the multimedia Journey of Dreams exhibit that delves into Singapore's history and the creation of the Singapore Flyer. Flights last 30 minutes each and run from early morning until late at night, so you can choose which view of the city you want to enjoy: the beginning of another bustling day or when Singapore is aglow after dark.
Address: 30 Raffles Ave, Singapore
Official site: http://www.singaporeflyer.com/
3. Gardens by the Bay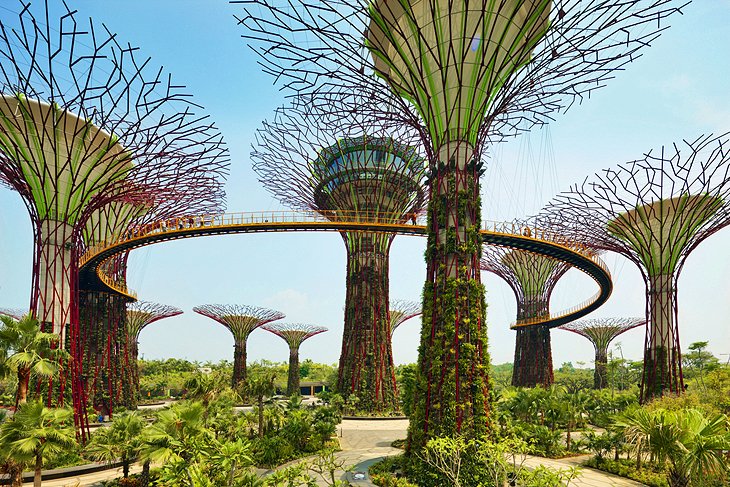 Once you've glimpsed this beautifully designed green space (from the top of the Marina Bay Sands, perhaps) you won't be able to stay away. Wander through the Bay East Garden, perfect for enjoying the vibrant plant life and escaping the city bustle for a moment. You won't want to miss Supertree Grove, where you'll find a cluster of the iconic, futuristic structures designed to perform environmentally sustainable functions. Then, head to the Cloud Forest Dome to see the world's tallest indoor waterfall and learn a bit about biodiversity. Check the website for final ticket sale and tour times.
Address: 18 Marina Gardens Drive, Singapore
Official site: http://www.gardensbythebay.com.sg/en.html
4. Botanic Gardens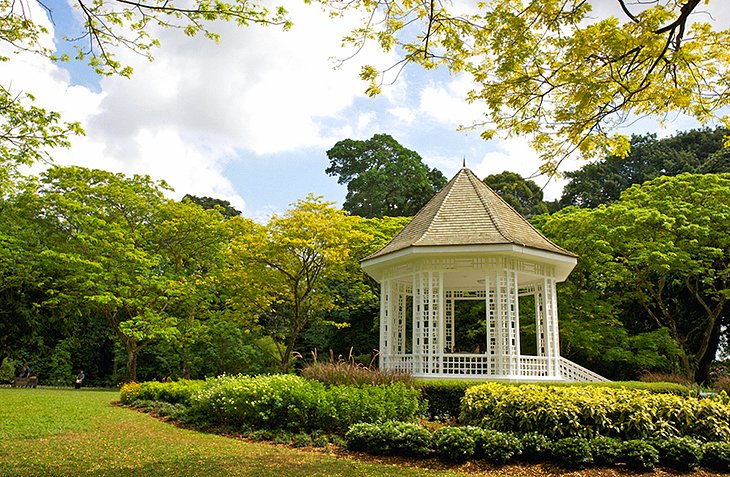 Not to be confused with the Gardens on the Bay, the botanic gardens are also worth a visit. Singapore received its first UNESCO World Heritage nomination for the botanic gardens, and with good reason. The city can sometimes feel like a concrete jungle, albeit a clean and comfortable one, but the botanic gardens preserve pieces of Singapore's wilder heritage. Indeed, you can visit the gardens' heritage trees via walking trail, which are conserved as part of an effort to protect the city's mature tree species. Make sure to visit the impressive National Orchid Garden. Other attractions include an eco-garden, eco-lake, bonsai garden, sculptures, and several other gardens and unique sites.
Address: 1 Cluny Rd, Singapore
Official site: http://www.sbg.org.sg/
5. Chinatown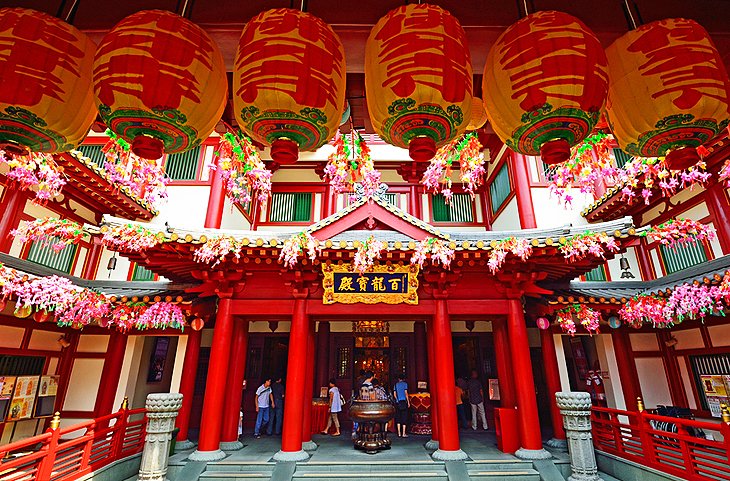 If you've ever visited China, Singapore's Chinatown neighborhood will bring you right back there. From the small mom-and-pop stores and authentic Chinese food to the bright red lanterns, there's an excitement and hustle in this district. You can visit the Chinese Heritage Centreand see the impressive and beautiful Sri Mariamman Hindu temple. Another temple worth seeing is the Buddha Tooth Relic temple. If you're up early enough (think 4 am), you can hear the morning drum ceremony. Or you can just check out the closing ceremony in the evening after viewing the relic.
Heritage markers have been installed throughout the neighborhood in English, Japanese, and simplified Chinese so visitors can better understand the significance of the area. But this neighborhood is not just a testament to the influence of the Chinese throughout Singapore's past. This is a progressive neighborhood (with free Wi-Fi for all) and it's home to the trendy Ann Siang Hill area, where the quaint bistros and upscale boutiques could be at home in any Western city.
Official site: http://www.chinatown.sg/
6. Little India and Arab Street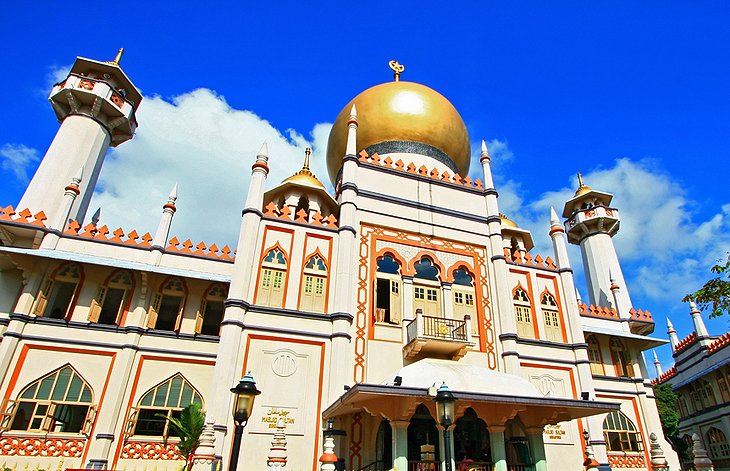 One of the most exciting aspects of Singapore is the diversity of its neighborhoods. Yes, the country is a savvy shoppers' paradise, but you'll also find rich traditions, delicious foods and local character in its older quarters. Nowhere is this truer than in Little India and Arab Street (also known as the Arab Quarter). The Indian community has a rich history in Singapore, and this enclave dates back more than 200 years. Singapore's name actually derives from the Sanskrit words for Lion City, according to Little India's official website. Today, the neighborhood is a thriving, colorful place where traditional holidays are celebrated, and visitors can observe worship and activity at the Sri Veeramakaliamman Temple or purchase saris while mingling with local vendors.
In the Arab Quarter, you'll want to visit the historic Sultan Mosque, originally built in 1825. Non-Muslims are not permitted in the prayer hall, though you can appreciate the distinctive golden domes and craftsmanship of the exterior structure. Haji and Bali lanes are especially good spots to shop for something a little more unique than a designer handbag, and you'll also find yourself surrounded by music and food, as there are countless restaurants
7. Raffles Hotel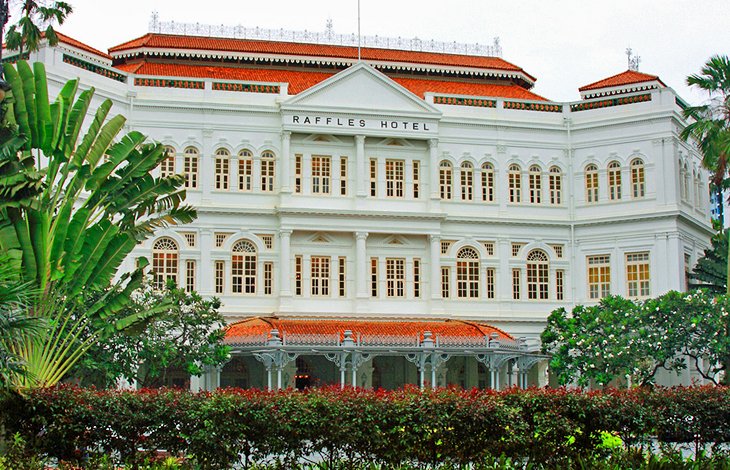 This colonial building is one of the world's last grand 19th century hotels, and was once visited by literary luminaries such as Rudyard Kipling and Joseph Conrad, as well as movie star Charlie Chaplin. Built in 1887, the Raffles Hotel has served as a Singapore landmark for well over a century and continues to live up to its tony reputation with excellent food and service. The classical architecture and tropical gardens provide a refined setting, and represent another facet of Singapore's varied and rich history.
The Raffles Hotel is located in Singapore's Colonial District, also home to several other historic sites. Among them is the Raffles Landing Site, where Sir Stamford Raffles is said to have stepped ashore in 1819. The story has it that he saw the small fishing village but recognized its potential as a port, so he purchased the land from the Sultan of Johor and invited Chinese and Indian immigrants to move there. And so the seeds of Singapore's multi-ethnic identity were sown.
Address: 1 Beach Road, Singapore
Official site: http://www.raffles.com/singapore/
8. Changi Chapel and Museum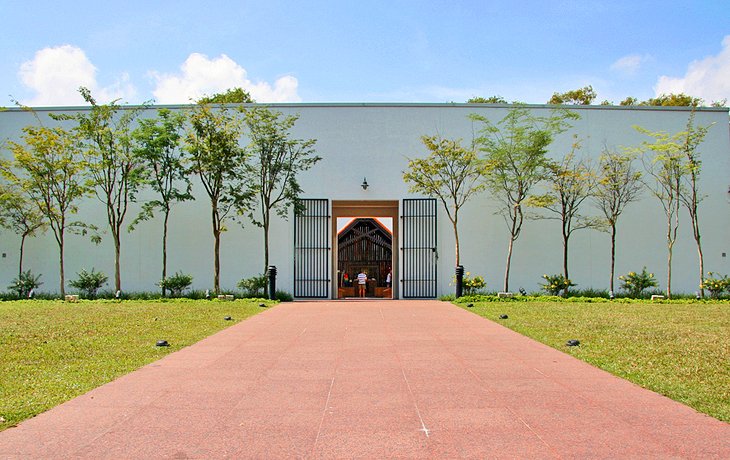 Singapore was not spared the horrors of WWII, and the Changi Chapel and Museum tells the story of those who suffered under Japanese occupation. The museum displays the letters, photographs, drawings, and personal effects that are now testaments to the imprisonment for more than 50,000 civilians and soldiers in Changi Prison. The Changi Chapel, found in the open-air courtyard of the museum, is a replica of one of the many chapels that were built during WWII. It stands as a monument for those who would not fold under Japanese rule. A must-see in the museum is a series of murals painstakingly recreated from originals painted by Bombardier Stanley Warren. Guests can participate in a guided tour or opt for an audio tour that features accounts of Changi prisoners' wartime experiences.
Address: 1000 Upper Changi Rd North, Singapore
Official site: http://www.changimuseum.sg/
9. Singapore Zoo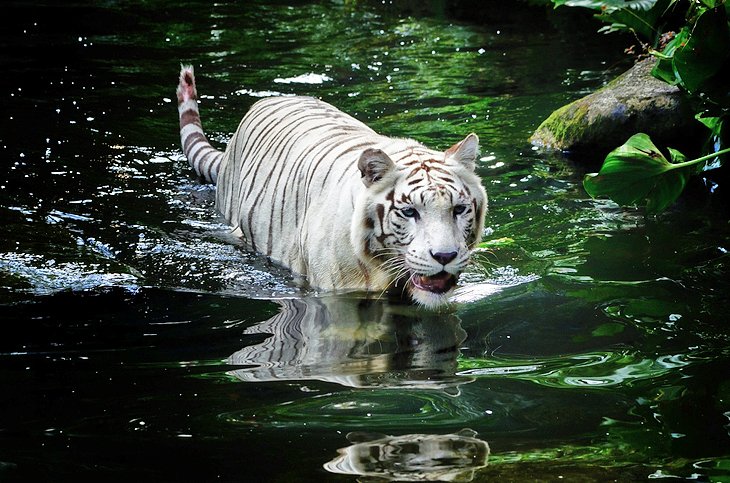 Billing itself as the world's best rainforest zoo, the Singapore Zoo is a pretty impressive place. The facility is clean and inviting, and the animals appear well treated with plenty of lush vegetation and habitat space. The orangutans are particularly impressive, and visitors can watch as babies and adults alike swing high above their platforms and snack on bananas. There is also a large chimpanzee family, zebras, meerkats, a komodo dragon, mole rats, white tigers, kangaroos, and many other creatures.
Guests can observe feedings for some of the animals. Allow at least three hours to make your way around the zoo. If the zoo doesn't satisfy your need for getting close to wildlife, there's also the Night Safari, River Safari (including a giant panda forest), and the Jurong Bird Park. Park hopper passes are available if you plan to visit more than one of the wildlife parks.
For a unique and personal wildlife experience, try the Singapore Zoo Breakfast with the Orangutans. This hassle free tour includes transportation from and to your hotel, allows you a half day to explore the zoo, and has an optional upgrade the enjoy breakfast in the company of the zoo's much-loved orangutans.
Address: 80 Mandai Lake Rd, Singapore
10. Fort Canning Park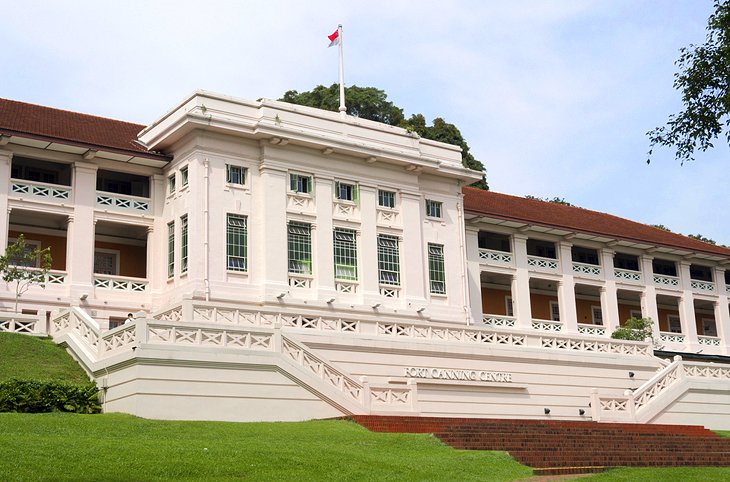 As military strongholds go, Fort Canning has had a long and varied life. Built in 1859, the fort was an essential site for Singapore's defense. Now in peacetime, the original building is home to modern performing arts troupes, and the park regularly sees picnics, concerts, theater performances, and festivals. Other attractions at the park include relics from Singapore's early history, from as far back as the 14th century, and Sir Stamford Raffles' personal bungalow. Guests can also see a replica of the spice market Raffles established in 1822, as well as the ASEAN sculptures that were erected in the 1980s.
Address: 51 Canning Rise, Singapore
Official site: http://www.nparks.gov.sg/
11. Sentosa Island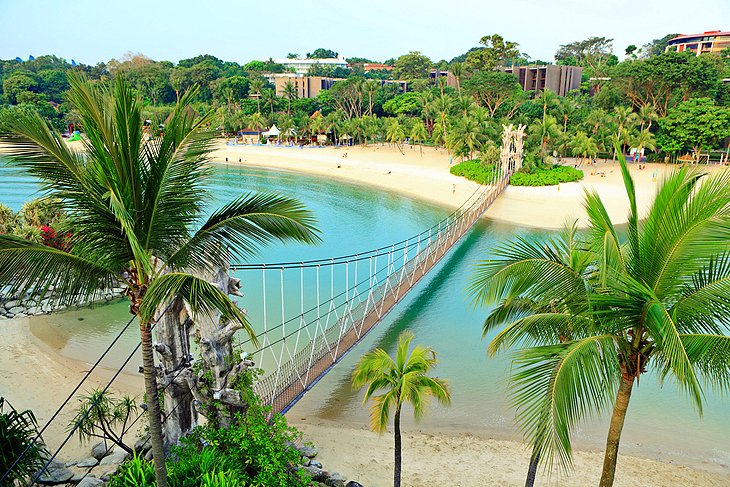 Singapore isn't exactly known as a beach destination, but if you're really craving some fun in the sun, Sentosa Island is the place to find it. Siloso Beach is a good spot for getting in beach time, and visitors can play volleyball on free courts or go kayaking and skim-boarding. There are several other beach attractions as well, plus an Underwater Worldaquarium where you can swim with dolphins. A must-see on Sentosa Island is the Merlion, Singapore's famous statue that has the head of a lion and the body of a fish. You can take an escalator to the top of the statue, and enjoy panoramic views of the surrounding area. Fort Siloso, the country's only preserved fort, is also located on Sentosa Island. Adventurous types will want to check out The Flying Trapeze and the SeaBreeze Water-Sports @ Wave House, where you can try your hand at flying strapped to a water-propelled jet pack.
Official site: http://www.sentosa.com.sg/en/
12. Orchard Road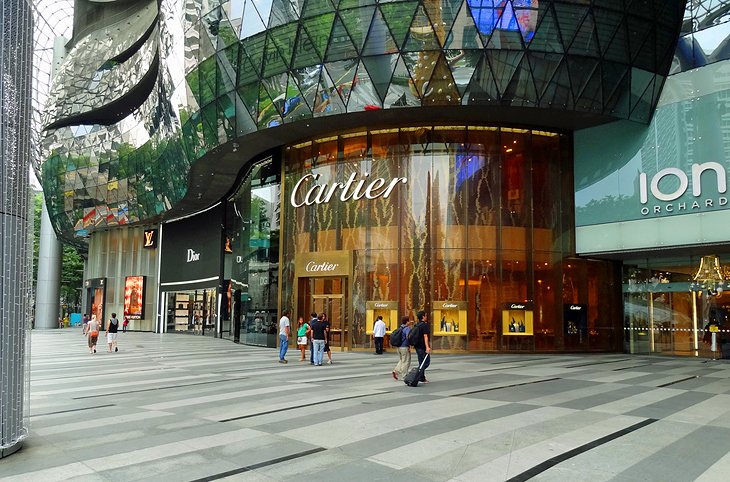 One could be forgiven for coming to Singapore and doing nothing but shopping, as this is a world-class city for style and designer chic. The Orchard Road area is a great place to start a shopping spree, as there are high-end stores at every turn. You'd expect nothing less from a neighborhood that boasts 22 malls and six department stores. There are also four movie theaters, including an IMAX, and a KTV karaoke. If you get hungry while burning through all that cash, there are plenty of eateries in the neighborhood serving international cuisines.
Official site: http://www.orchardroad.org/
Source : planetware.com
World's Best Travel Destination in 200 Countries
Let's share as alms …
Tidak ada pos yang ditemukan.