Chevrolet Corvette Grand Sport
The Chevrolet Corvette Grand Sport needs little introduction as a mega-performance bargain worthy of our 10Best Cars list, and 2018 marks the second year in a row that the Grand Sport targa and convertible have made the cut. From its Lightning Lap exploits to our current long-term test car, it is a track-day thriller and an unflinching ally on winding back roads. Factor in impressive civility at a price that massively undercuts any exotic of similar dynamic capability, and the Grand Sport earns its place again for being one of the best sports-car buys available.
Pairing the mighty Corvette Z06's flared bodywork and hard-core chassis hardware with the regular Stingray's small-block LT1 powerplant, the $66,590 Grand Sport targa (and $70,590 Grand Sport convertible) can cling to the road at up to 1.18 g with the optional Z07 package yet effortlessly deliver nearly 30 mpg during highway cruises. Its tractable, 460-hp 6.2-liter V-8 roars a deep, Old Glory tune through the standard active performance exhaust and can rocket the low-slung two-seater to 60 mph in less than 4.0 seconds with either the standard seven-speed manual transmission or the quick-shifting optional eight-speed automatic.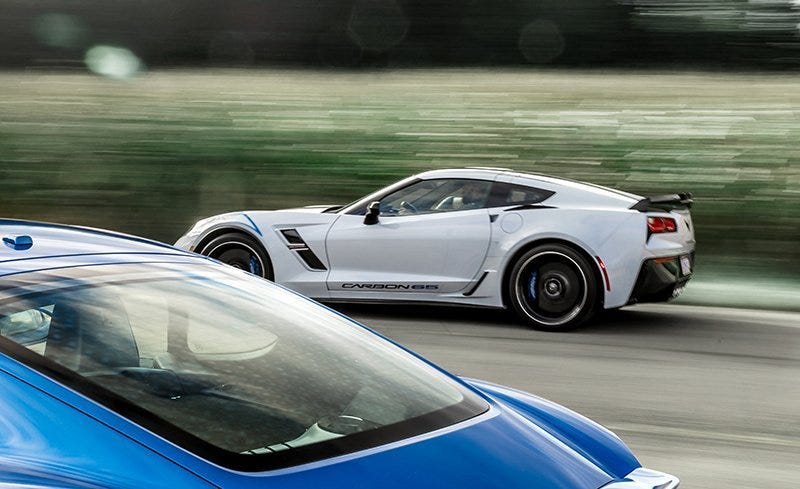 With its widened stance and radical aero addenda, the Grand Sport is both menacing to behold and forgiving to pilot at warp speed, particularly with the extreme, $7995 Z07 track bundle. The same upgraded suspension and adaptive dampers that let the GS bound over curbing on the track also afford it long-haul comfort with a weekend's worth of luggage under the rear hatch or in the convertible's trunk. This is a livable supercar that will comfortably trundle around town andstop from 70 mph in as little as 129 feet, while clearly communicating its attitude through a direct and nicely weighted steering wheel. Simply retract the convertible's cloth top or remove the targa's roof panel to turn things into an open-air party.
The scary thing is that the Grand Sport could be even better. We're still waiting for General Motors to fit the Corvette with a cabin that isn't infused with the fragrance of plastic resin after sitting in the sun for a few hours. The GS's racy handling limits are almost impossible to safely probe on the street, its low-hanging nose is easily damaged in parking lots, and certain versions—such as the Carbon 65 special edition that can easily push $100,000—bring into question its budget-supercar reputation.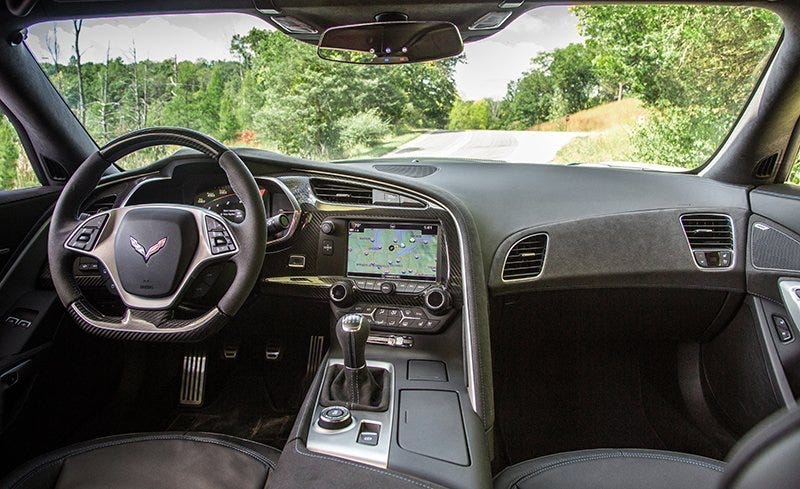 But especially near the Grand Sport's modest premium over regular Stingrays, those grievances quickly fade when you're behind the wheel on an open road. 10Best peers such as Porsche's 718 Cayman and Boxster and Chevrolet's own squad of extra-strength Camaros have honed their own mixes of affordable thrills, but the Grand Sport is the only one that makes exotic levels of all-around performance so attainable. —Mike Sutton
Specifications
VEHICLE TYPE:
front-engine, rear-wheel-drive, 2-passenger, 2-door targa or convertible
BASE PRICE:
$66,590–$70,590
ENGINE:
pushrod 16-valve 6.2-liter V-8, 460 hp, 465 lb-ft
TRANSMISSIONS:
7-speed manual, 8-speed automatic with manual shifting mode
CURB WEIGHT:
3452–3483 lb
C/D TEST RESULTS:
Zero to 60 mph: 3.8–3.9 sec
Standing ¼-mile: 12.2–12.3 sec
Top speed (mfr's claim): 170–175 mph
Braking, 70–0 mph: 129–139 ft
Roadholding, 300-ft-dia skidpad: 1.11–1.18 g
EPA FUEL ECONOMY:
Combined/city/highway: 18–19/15–16/25 mpg
Source : caranddriver.com
Main article : 2018 10 Best Cars