Volkswagen Golf / Alltrack / e-Golf / GTI / R / SportWagen
The latest iteration of an evolving composite stitched together from more than four decades of research, development, and progress, the Volkswagen Golf has endured a diesel-emissions scandal, currency fluctuations, and shifting public predilections with grace. Entirely modern but cast in the same basic blueprint as the car that arrived here in the mid-1970s to replace the beloved but antiquated Beetle, the Golf remains one of the most capable, versatile, and meticulously assembled vehicles currently available at any price.
Truly worthy of the Volkswagen name—it translates to "people's car"—the Golf lineup offers something for nearly everyone, from the value of the too-fun-to-be-a-base-model 1.8T, to the 6.9 inches of ground clearance of the Alltrack wagon, and the segment-busting performance of the sublime Golf R. The Golf middle ground is occupied by the SportWagen and the iconic GTI, the latter a vehicle that has received our near constant admiration since its arrival in 1983.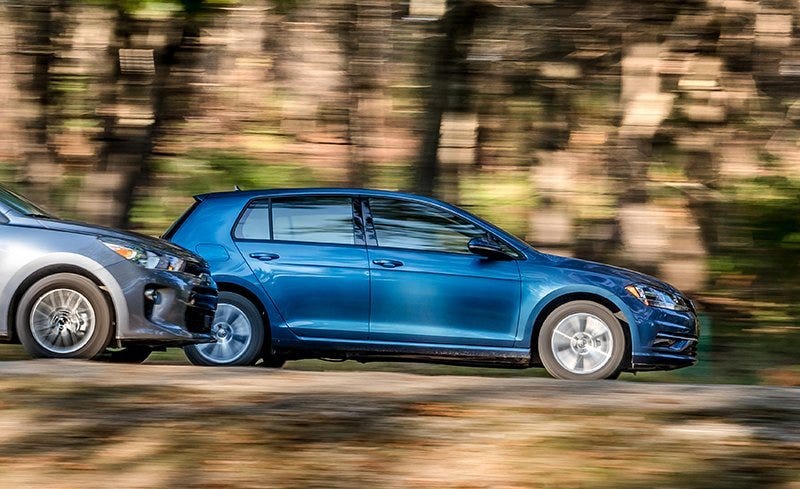 All Golf variants display a proclivity for driving enjoyment. Grab some time in a 170-hp base 1.8T and you'll find yourself impressed with how its precise steering, firm brake pedal, and well-tuned suspension helps soften the rigmarole of even the most mundane commutes. Or, if you're looking to go electric, the e-Golf delivers the driving competence of its conventional siblings without compromising practicality—a surprise given the large battery pack that delivers 125 miles of range. Moving up to the 220-hp GTI only magnifies these favorable perceptions. Specifying the GTI's SE trim brings the beefier brakes from the Golf R and, most significant, an electronically controlled limited-slip differential—all for around $31K. More than just a random assortment of performance-enhancing parts, these upgrades enhance the GTI's holistic goodness without spoiling the fluid manner in which it flows from apex to apex. All Golfs enjoy tight build quality and a quiet, rattle-free interior, to boot.
Although the Golf would have earned a 2018 10Best Cars spot on the merits of the base and GTI models alone, the R is a halo that can't be ignored. Packing a turbocharged four-cylinder producing 292 horsepower and 280 lb-ft of torque, it employs an all-wheel-drive system that elevates performance while bolstering the confidence of even novice drivers. Equally impressive is its ability to dial back the intensity and serve as a four-door transportation device spacious and comfortable enough to take your grandmother—and her Saint Bernard—to town in.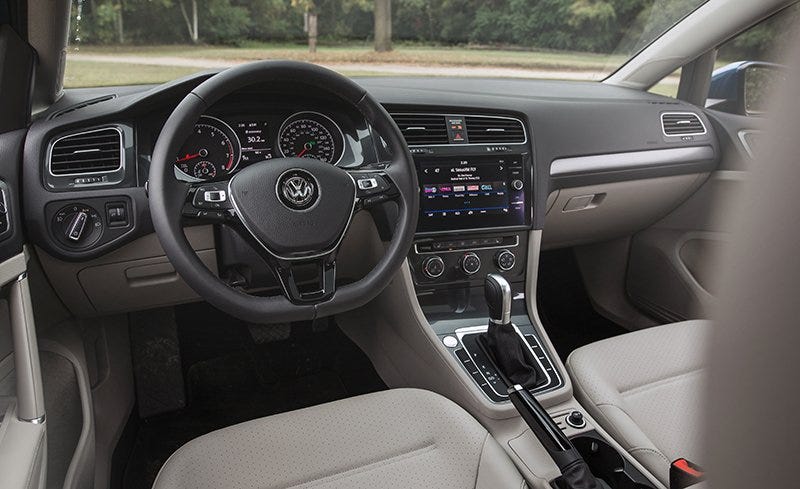 Finally, the SportWagen and the Alltrack expand boundaries without breaching the Golf's promise to deliver not only fun and utility at a reasonable price, but also the satisfaction that only intelligent design and precise execution can provide. All of the above is exactly what we look for in our favorite vehicles—and why the Golf family wins 10Best laurels once again. —Andrew Wendler
Specifications
VEHICLE TYPE:
front-engine or -motor, front- or all-wheel-drive, 5-passenger, 4-door hatchback
BASE PRICE:
$21,760–$40,635
ENGINES:
permanent-magnet synchronous AC motor, 134 hp, 214 lb-ft; turbocharged and intercooled DOHC 16-valve 1.8-liter inline-4, 170 hp, 184 or 199 lb-ft; turbocharged and intercooled DOHC 16-valve 2.0-liter inline-4, 220 or 292 hp, 258 or 280 lb-ft
TRANSMISSIONS:
5-speed manual, 6-speed manual, 6-speed dual-clutch automatic with manual shifting mode, 7-speed dual-clutch automatic with manual shifting mode, 6-speed automatic with manual shifting mode, 1-speed direct-drive
CURB WEIGHT:
2984–3497 lb
C/D TEST RESULTS:
Zero to 60 mph: 4.5–8.5 sec
Standing ¼-mile: 13.2–16.6 sec
Top speed: 85–153 mph
Braking, 70–0 mph: 154–181 ft
Roadholding, 300-ft-dia skidpad: 0.82–0.95 g
EPA FUEL ECONOMY:
Combined/city/highway: 24–29/21–25/29–36 mpg
Combined/city/highway: 119/126/111 MPGe (e-Golf only, C/D est)
Source : caranddriver.com
Main article : 2018 10 Best Cars