North of Venezuela, the island of Aruba is famous for its stunning blonde beaches, wind-sculpted desert landscapes, and some of the best wreck diving in the Caribbean. Aruba is a relatively dry island with consistently fine weather. Its location in the far south of the Caribbean puts it out of reach of most hurricanes, so sun seekers can enjoy the island's outdoor attractions and water sports at any time of year.
Aruba's quaint capital, Oranjestad, is a charming cruise ship port. Visitors can stroll among brightly-hued Dutch colonial buildings and browse the shops and museums. Scattered around the island are many enticing beaches. The north coast lures swimmers with its calm waters and seemingly endless sweep of glittering sand, while the rough and wave-battered east coast offers dramatic vistas and dangerous surf. Adventures abound on this rugged island. Away from the resort strip, visitors can slide down towering sand dunes, ride the swells on a kite surfer, discover unique rock formations, swim in natural pools, fish for wahoo and tuna, and explore some of the island's rocky cacti-cloaked terrain in four-wheel-drive vehicles or on horseback. In late January and early February, Carnival ignites with dances, parades, contests, and other festivities.
1. Beaches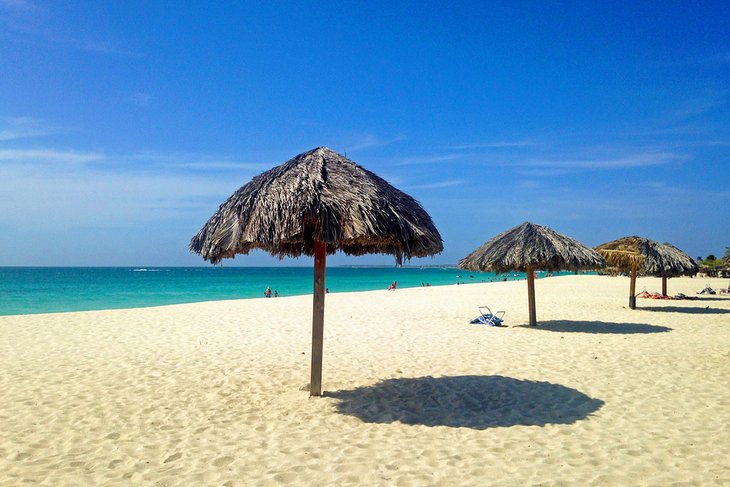 Aruba offers a buffet of delicious beaches. The northwest coast of Aruba, from Druif Beach to Eagle Beach, and Palm Beach to Malmok, is an 11-kilometer sweep of uninterrupted white sand and clear jade waters. Eagle Beach and Palm Beach are favorites. Near the California Lighthouse, Malmok Beach and secluded Arashi Beach are great for swimming and snorkeling. On the windward east coast, Bachelor's Beach, Boca Grandi, Boca Prins, Dos Playa, Black Stone Beach, and Boca Andicuri have stronger currents and larger waves. Although they are not recommended for swimming, windsurfers and kite surfers can tackle the swells. The beaches in the southeast are less populated. Locals' favorite, Baby Beach, with its shallow basin and calm waters, is great for inexperienced swimmers.
2. Oranjestad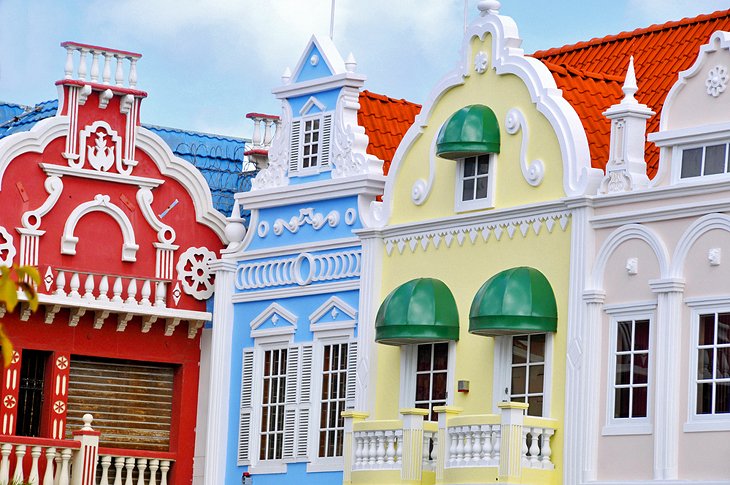 Oranjestad is a charming city and the capital and cruise port of this tiny island. The most striking feature is the Dutch colonial architecture. Pastel-hued buildings with a Spanish and Caribbean twist jostle along the tidy streets, and tourists will find many shops, restaurants, museums, galleries, and entertainment options. Well-maintained Wilhelmina Park, on the waterfront, is one of the city's main attractions, particularly in June, September, and October when many of the plants are in bloom. Built as a lighthouse and pirate-spotting vantage point, the King Willem III Tower at Fort Zoutman houses the Aruba Historical Museum with artifacts related to the entire history of the island. Other Oranjestad highlights include the National Archaeological Museum, Aruba Aloe Factory, Access Art Gallery, Butterfly Farm, the harbor market, and the Numismatic Museum with displays of world currency dating as far back as 221 BC. Overall the city is simply a fun place to walk around and soak up the atmosphere.
3. Arikok National Park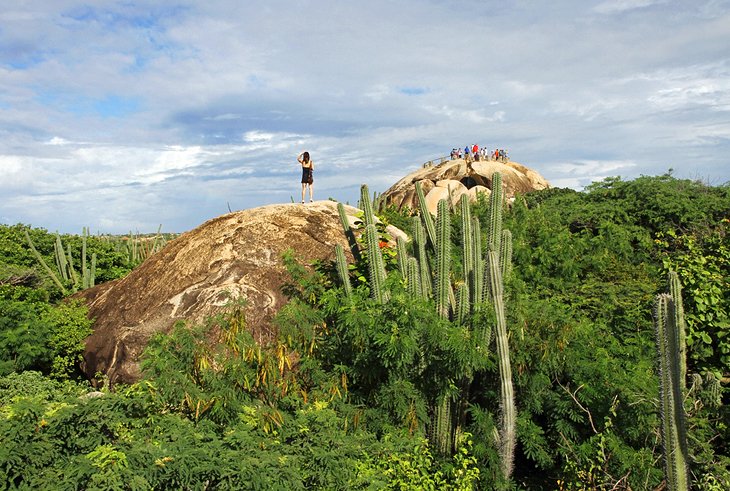 Outdoor enthusiasts will love exploring Arikok National Park with its cacti-covered landscapes, caves, sand dunes, and unique rock formations. Large boulders adorned with Indian paintings make up the odd rock formation known as Ayó. Weathered by trade winds, the Casibari Boulders, are strewn amid dry scrub. Visitors may walk the trails and steps ascending through the rocks for great views and photo opportunities. Wave erosion carved the 30-meter Natural Bridge at Anicouri, which stands 7.3 meters above sea level. This is a great spot for a picnic. On the picturesque waterfront, the old stone walls of the Bushiribana Ruins are the remains of a 19th-century gold smelter. Parakeets, goats, lizards, snakes, and iguanas are just some of the creatures found in the park. Since the roads can be rugged, jeeps are recommended, but visitors can also explore on horseback and hike the many trails.
Address: San Fuego 71, Santa Cruz
4. Boca Prins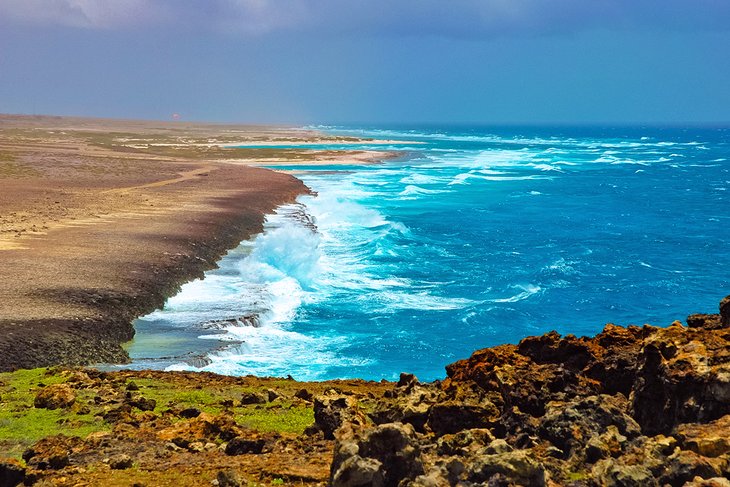 In Arikok National Park, near the Fontein Cave and Blue Lagoon, Boca Prins is a dramatic stretch of coast backed by massive sand dunes. Trade winds sculpt these shifting sands and adventure seekers love to slide from their peaks. At the narrow sliver of beach, crashing surf and soaring limestone cliffs create dramatic coastal vistas. Swimming here is too dangerous, but it's a great spot for a picnic. Four-wheel drive vehicles are recommended.
Address: Off 7 A/B, near Fontein Cave
5 California Dunes and Lighthouse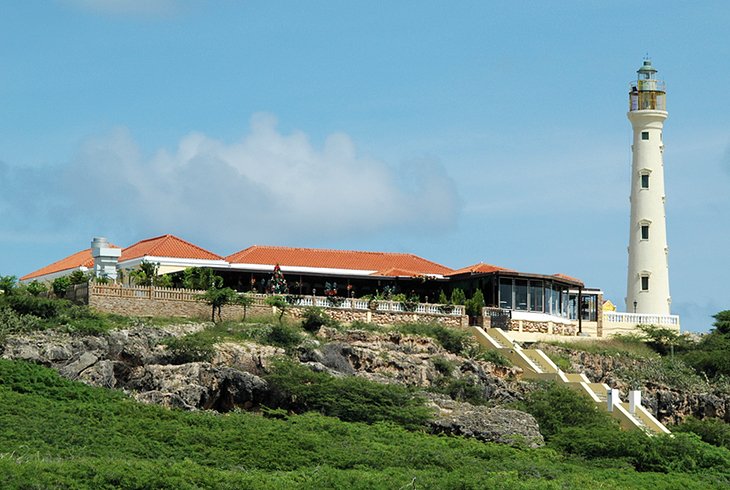 At the northern tip of the island, the California lighthouse stars on many Aruban postcards and tourist brochures. It was named for the S.S. California, which sunk off the coast here. The surrounding area is rugged and beautiful with sand dunes, cacti, and even some grazing goats. Although the lighthouse is closed to the public, it's a great spot to compare the calm waters of the western shore with the rough waves of the east. Sunset is a beautiful time to visit the lighthouse and enjoy panoramic island views. Many guests linger for dinner at the nearby restaurant.
Address: Northern Aruba, Palm – Eagle Beach
6. Alto Vista Chapel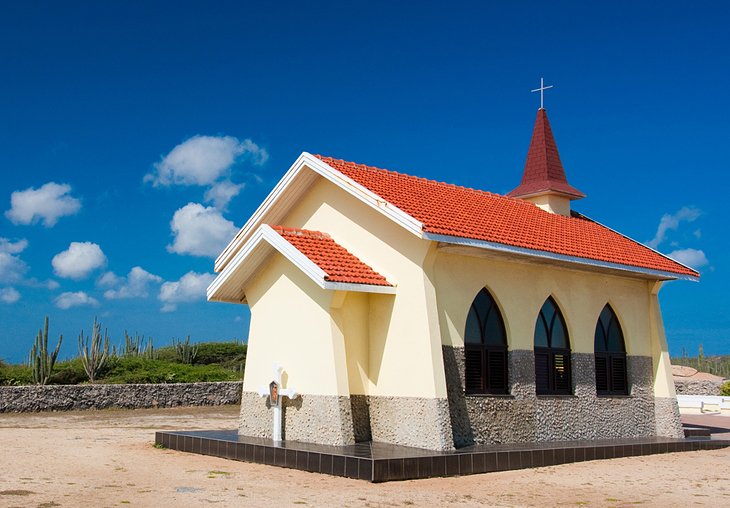 The small Alto Vista Chapel is one of Aruba's cherished landmarks. Often called the "Pilgrim's Church", Alto Vista was built in 1750 by the Spanish missionary, Domingo Antonio Silvestre. Alto Vista means "highest view" in Spanish and, true to its name, the church sits high on a hill with beautiful views over the island's north shore. The Stations of the Cross mark the road leading to the chapel.
Address: Alto Vista, Noord
7. Dive Sites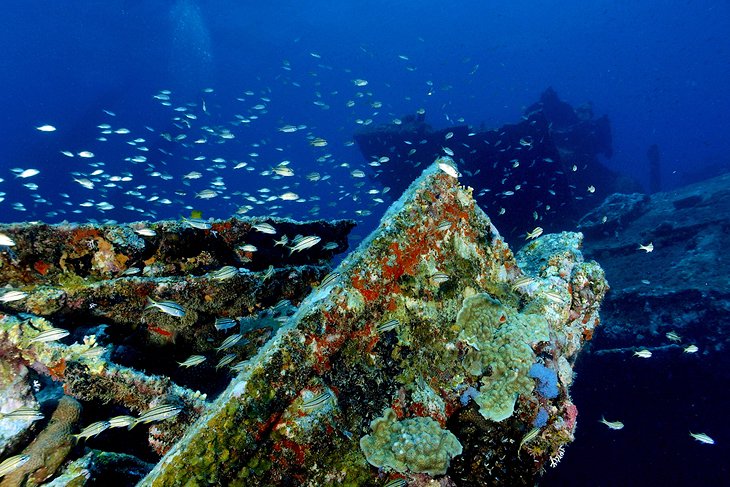 Aruba is famous for its excellent wreck diving catering to divers of all levels. Sunken vessels range from tugboats to cargo ships, and even plane fuselages. Lying between Arashi and Malmok, the Antilia is the Caribbean's largest wreck and one of Aruba's most popular dives. Snorkelers can also explore the shallow-water sections of this wreck. Other popular wrecks include the 250-foot former concrete freighter Jane Sea and the oil tanker Pedernales. Coral reefs lace along the island's leeward shore. Some of the best reef dive sites include Skalahein Reef, Plonco Reef, and Mas Bango Reef, which is also excellent for snorkeling. Those who prefer to stay dry can board the Atlantis Submarine to view marine life, coral formations, and shipwrecks.
8. Natural Pool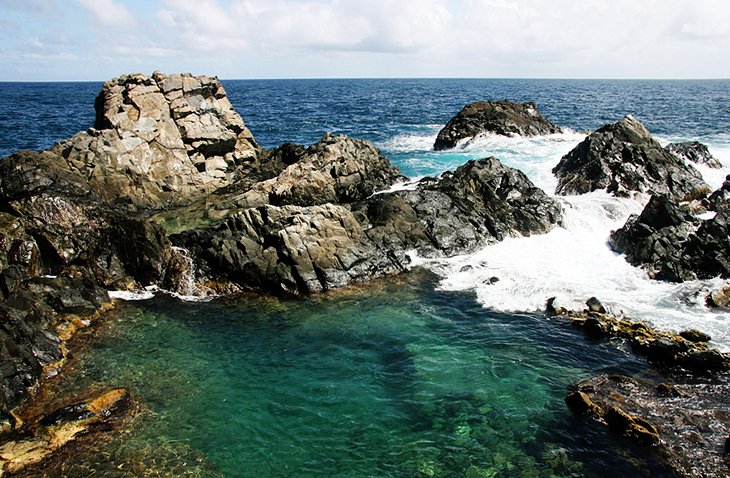 The Natural Pool is just that, a protected swimming hole filled by waves crashing over the slick rocks. Visitors can swim and snorkel here although the area is really not that big. The challenge comes with accessing the natural pool, which is best reached by four-wheel-drive vehicle down a rugged road. Visitors can navigate the area themselves, although the road is not well marked, or hire a guide. Horse riding and ATV tours are also available.
9. Rancho Daimari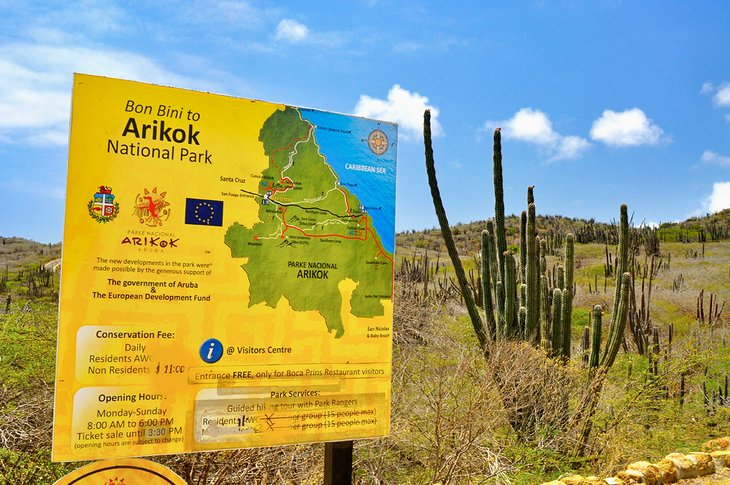 On the remote northeast coast of Aruba, Rancho Daimari offers scenic horseback tours to sites such as the Natural Pool, Arikok National Park, Andicuri Beach, and the sand dunes. The ranch overlooks Daimari beach on the site of a former coconut plantation, originally established in the 17th century. Guests of all riding abilities are welcome, although the terrain can be rocky and steep.
Address: Sabanilla Abao z/n
10. Philip's Animal Garden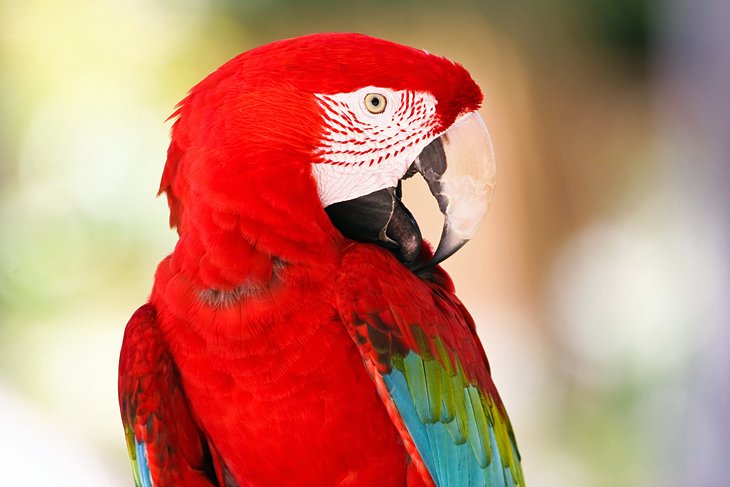 The non-profit Philip's Animal Garden is a sanctuary and rehabilitation center for more than 52 species of animals including snakes, kangaroos, monkeys and ocelots. Animal-lover Philip Merryweather poured his passion for exotic animals into this popular tourist attraction, which runs educational and interactive tours. Visitors can touch and feed some of the creatures, and all funds go towards their welfare.
Address: Alto Vista 116, Noord
11. De Palm Island
A five-minute ferry ride from the mainland, De Palm Island is a small private splotch of sand packed with activities. For all-inclusive rates, guests can swim, snorkel, or zip around on banana boats while land-based activities include beach volleyball, basketball, bingo, salsa lessons, and card games. Families with young children will enjoy the small water park with spiral waterslides and splash pools. For additional fees guests can try the Sea Trek underwater helmet walk, SNUBA, or indulge in massages.
Address: Port de Palm, Aruba (planetware)
***